Welcome to Chelmsford Jewish Community
About Us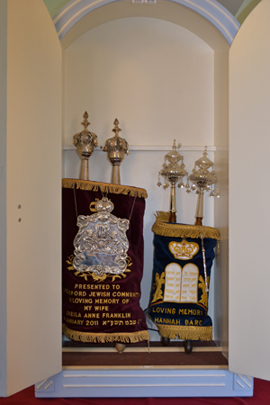 The Chelmsford Jewish Community [CJC] was established in 1974 to provide for local Jewish people of all shades of religious observance and background. It is a non-affiliated congregation that is open for membership to all co-religionists and where their non Jewish partners are welcome to all events and services.
The community is led by long-standing Chairman Stanley Keller ably supported by a Council of up to 10 members.
Currently CJC has a membership of around 60+ families largely within the greater CM postcode area. Services are held in central Chelmsford but often socials are in the homes of members living in neighbouring towns or villages.
CJC conducts regular Friday evening services, the occasional Shabbat morning service and services for the High Holy Days and all major festivals and are conducted by our team of lay readers, CJC not having a resident rabbi.
The CJC is able to offer membership of the Jewish Joint Burial Society (JJBS) under whose auspices burials take place at the Western Cemetery, Bulls Cross Ride, Waltham Cross. Funerals now include woodland and lawn burials. In addition to these facilities the JJBS offers cremation at Hoop Lane Crematorium, Golders Green. A recent decision by the JJBS now allows for the inclusion of non-Jewish partners.